Email marketing outclasses all online marketing strategies encompassing PPC, SEO, and content marketing. It is acceptable to promote your products communicate to your customers effectively, and achieve your business goals.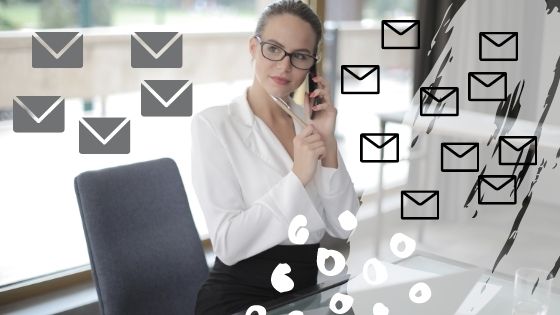 Researches prove that email marketing is more desirable to attain customers than other social media platforms. Email is the most significant component of a marketing strategy. Your business growth depends upon how well you craft your mail marketing strategy.
The average ROI through email marketing is $42 for each $1 spent. In other words, you could say you will 42 times better return by investing a single dollar.
The study discovered that overall performance for a subscriber is prone to upgrade after adopting email campaigns through marketing experiments based on the specific model.
Let's dig into top email marketing strategies that will help you achieve surprising results.
Top Email Marketing Approaches
Scroll down the practical guide to make your email marketing results-driven.
1. Inviting Welcome Emails
Welcome with an inviting message to whoever subscribes to your email list. Make sure to make your email list effective since it is the first impression. Your email may be likely to ignore if you do not treat your customers with a positive and energetic response.
The most prominent examples are:
Introduce yourself
Provide your incentive
Try to be social
Share helpful resources
Fix expectations
Be connected
2. Personalize your Messages
Personalized messages do not mean to send emails individually to each subscriber. Personalization refers to use customer data to make your message personalized. Make your email marketing not only the email but the overall customer experience. If you adopt a personalization strategy correctly, it produces effective results.
Let's stand out against the competition by personalizing emails and improve your campaign performance. The most straightforward strategy is to address the reader by name, increase open rates by 16%, and increase engagement.
One of the great examples is "Dear Robert," NOT "Dear valued customer." Furthermore; 
You can send a segment email list:
Send behavior trigger
Give them tips and tricks
Make standouts
Propose relevant products
Follow at the right time
3. A/B Testing Strategy
A/B testing is one of the digital marketers' finest strategies to test their website design, Google AdWords ads, Facebook ads, and landing pages. The simple rule applies to email marketing.
A/B testing for email messages plays a significant role. You can A/B test your email messages in the following way:
Headline
Personalization
Subject lines
Body test
Images
Closing text
Testimonials
Call to action (Give it a try)
Test different offers
The layout of the message (choose single or two-column or different placement for different elements). You do not need to test the whole list at a time. First, pick either one or two elements to improve conversion, then go for testing more components.
Make sure of the purpose of testing any particular element of email. You may test headlines for open rate, image for high conversion rate, and call-to-action text for high click-through rate.
For example, Active Network is a significant event management software provider. 
4. Mobile-Optimized Emails
Let's know why mobile-optimized emails are significant. As the world moves to advance, mobile usage has increased at a fast pace. Researchers suggest that 70% of people have replaced their PC with smartphones, tablets, and iPhones.
It makes it easy for you whether you are in bed, on a walk, in the office, a coffee shop, or elsewhere. You can check your phone for calls, emails, and messages with a single click. If your emails are not mobile-friendly, your subscribers may feel irritating. They may never return to your email by unsubscribing or deleting your email.
Follow the below-given steps to optimize your emails for mobile phones:
Use a mobile responsive template
Be certain of word-wise
Use simple images
Responsive buttons
Break up text in chunks
5. Re- Involve Inactive Subscribers
It may be challenging to target new subscribers than the existing ones because present subscribers are well aware of your brand and services. You may be facing having some subscribers that are not engaging in your email list. However, it is a common phenomenon.
But adopting some valuable strategies will help you re-engage inactive subscribers.
The first thing you need to do is find the cause of "inactivity."
Your perfect period may range from three to six months almost.
Secondly, start re-involving your inactive subscribers as per the solution you fond for the cause. You can accompany your subscribers by negating them in polls and surveys. Also, offer them gifts as a reward for completing surveys or polls.
Gifts are, however, the best way to motivate and reactive your subscribers.
Moreover-engagement campaigns include the following types:
Special offers and discounts
Send personalized emails directly
Endorse online contests or giveaway
Orientation of the recipient's lack of engagement
6. Run Automated Email Campaigns
Automated emails are based on user behavior and are sent out automatically.
The standard computerized emails may include:
Welcome and Thank you emails
Transactional emails (order confirmation email and email receipt)
Nevertheless, automated emails produce more promising results than traditional emails. Automated emails tend to increase sales by an average of 15%.
Email automation will transfer leads to customers. It will create enhancement for existing customers and inspire them to use more of your products. You can uplift additional purchases rate and upsells.
Famous email automation software:
Constant Contact
Customer.io
MailChimp
GetResponse.
Hubspot
7. Custom Call-to-action in Email
Call-to-action is the most potent and result-driven strategy to make your business purposeful. Call-to-action (CTA) is the button or link you paste inside your email to start a free trial or buy a product.
CTAs may include:
Click here to get this now
Get a free offer
Get complimentary trial
Browse catalog
Purchase now
Download this ebook now
The more effective CTAs are, the higher will be conversion rate, revenue. You can repeat the CTA two or three times because people's attention spans are short.
Also Read: All Secrets You Need to Know About Why Use Email Marketing?
Take Away
All in all, the above email marketing strategies and email acquisition tactics specialize in delivering results. Let's update your email marketing strategy as per the above ideas. Make a strong focus on targeted messages that are well-optimized and personalized following the latest trends.
If you implement email strategies in the right way, you are more likely to make your customer more responsive and enhance the performance and growth of your business.